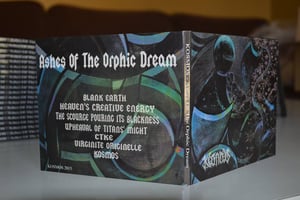 €

10.00 - On Sale
The brand new album of Kosmos will be released in LIMITED (100) DIGIPACK. It is called "Ashes Of The Orphic Dream".
I'm proud to announce that this album is by far the best album of Kosmos. There was the perfect team to support me through this huge work, I mean : S.Sorthei (Pavillon Rouge) playing the drums and xOv about The Orphic concept including the complete artwork one more time.
"Ashes Of The Orphic Dream" contains 07 tracks including 02 intrumental ones.
Here is promo album you can listen :
www.youtube.com/watch?v=i1OY37-12vY
01_BLANK EARTH 4:45
02_HEAVEN'S CREATIVE ENERGY 5:49
03_THE SCOURGE POURING ITS BLACKNESS 7:09
04_UPHEAVAL OF TITANS' MIGHT 5:26
05_CTKE 3:41
06_VIRGINITE ORIGINELLE 7:19
07_KOSMOS 4:14
https://www.facebook.com/KOSMOS.BLACK.METAL
It deals with Human created as the main energy meant to bring harmony, to bring a common sense in a world made of infinity.
Human was the real source of power supposed to get everything better by spirit.
This album deals with the Orphic Dream, the fact that human nature has been created to bring light, to get the world brighter, better. But humans' feelings have brought something unexpected. Unstead of harmony, respect, they just spread jealousy, sadness, misfortune and step by step became the disease of the earth. They got the trees dying, flowers withering, animals more and more cruel to each others.
Then the Titans were called to eradicate humanity which is not worth living anymore.
(You can order your copy right now at x.o.v@wanadoo.fr for 10€ delivery price included)
Nekros