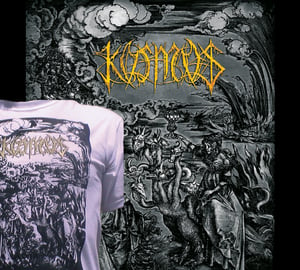 €

16.00 - On Sale
! CROSS THE KOSMOS ERA !
Kosmos is a Black Art, a wound which will never close.
SPECIAL OFFER !!!!
KOSMOS - From Innocence To Perversity ( DIGIPACK 100 handnumbered copies) presentation:http://www.youtube.com/watch?v=mb7gQ1Ijwf8
TRACK LIST:
1 Forsaken 2 :31
2 Rebirth 5 :39
3 Mental Slaughter 5 :19
4 Darkness As Truth 4:20
5 Void Of Reason 5:16
6 You Will Rape Children 3:39
7 Nameless Bloodshed 4:48
8 Beloved By All Sinners (A Soulless Tyrant) 5:55
9 He Was Priest 2:56
2 TRACKS AVAILABLE HERE: http://kosmosblackmetal.bandcamp.com
+ KOSMOS SHIRT
White fruit of the loom heavy cotton shirt with black print and the Gold logo up front, nothing on the back.. simple and easy.
Kosmos is a project which reveals, in a black metal way, the human horror, as egocentric as it can be, and the balance of power it threatens all the time.
Kosmos suggests to know the Truth, to touch reality, even if it would burn himself.
http://www.facebook.com/KOSMOS.BLACK.METAL