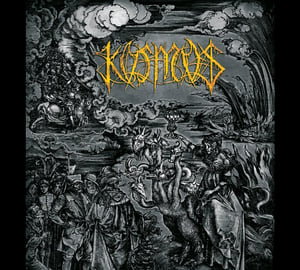 €

8.00
! CROSS THE KOSMOS ERA !
Kosmos is a Black Art, a wound which will never close.
www.facebook.com/KOSMOS.BLACK.METAL
2 TRACKS AVAILABLE HERE:
VOID OF REASON: http://www.youtube.com/watch?v=p7tZuFB3tF0
BELOVE BY ALL SINNERS: http://www.youtube.com/watch?v=Hu8eyVUE9cs
KOSMOS - From Innocence To Perversity ( DIGIPACK 100 handnumbered copies) presentation: http://www.youtube.com/watch?v=mb7gQ1Ijwf8
TRACK LIST:
1 Forsaken 2 :31
2 Rebirth 5 :39
3 Mental Slaughter 5 :19
4 Darkness As Truth 4:20
5 Void Of Reason 5:16
6 You Will Rape Children 3:39
7 Nameless Bloodshed 4:48
8 Beloved By All Sinners (A Soulless Tyrant) 5:55
9 He Was Priest 2:56
Kosmos is a project which reveals, in a black metal way, the human horror, as egocentric as it can be, and the balance of power it threatens all the time.
Kosmos suggests to know the Truth, to touch reality, even if it would burn himself.
The first album called "from innocence to perversity" is an atmospheric and tortured black metal which brings the listener to the blackest part of middle ages. This story deals with black facts for our epoch too.
Indeed, this opus deals with a man who has been saved from cold and hunger by a priest.
Once saved from death, this man grew up among priests in a very closed middle. He learnt faith through
Books and oral teaching. But this learning made him insane, he became cruel.
Over the years he was meant to teach to children what he learnt. But atrocities began, the rapist within woke up. This is the link with books, with cross, which made him so cruel. He thought he was powerful.
During the burial, a lot of priests came to pay tribute to him, to sing the praises of him, a disgusting assessement, when religion is said as holy. Nothing is dirtier than it.
As for atmospheres, music makes think of Blut Aus Nord, Verdunkeln and Urfaust a little. We also can
Find a Mutiilation touch in some riff.
Melody is in close contact with dissonance, that's why we can name Funeral Mist, Aosoth, and sometimes Shining in some track. Kosmos is a mix between all these bands.
RERELEASED BY MORTIS HUMANAE PRODUCTIONS with DEMO on TAPE:
From Innocence To Perversity 2012 + L'antithèse
Unreleased demo from 2010 on face B
Tape limited to 100 with pro-cover and label on both faces
More information on
http://www.mortishumanae.com/
or
mortishumanae@orange.fr
TAPE ARTWORK:
imageshack.us/a/img822/9493/img1400low.jpg